Finalist Adelaide Perry Prize for Drawing 2020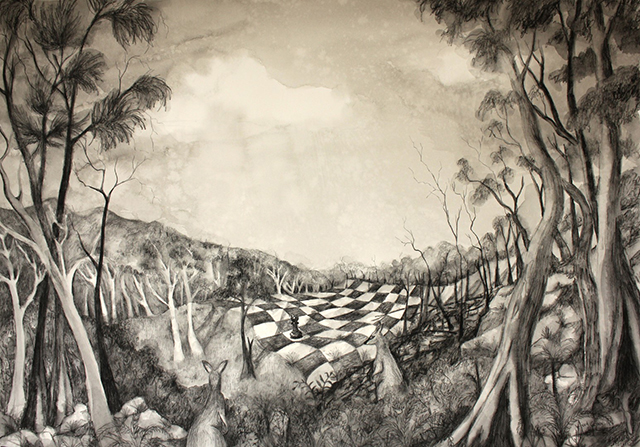 In Extinction Game my drawing process is influenced by colonial historical images and the current bushfires.
My drawing 'Extinction Game' has been selected for the 2020 Adelaide Perry Prize for Drawing. Created whilst in a stressful state listening to the RFS fire scanners during the bushfire evacuations in a studio surrounded by smoke and uncertainty. The work is influenced by colonial historical images and references black and white as race, as 'chequered' speaking of alternations of good and bad, as a game, as colonial floorcloths, as the French escheker connected with finance/revenue and more specifically the game of chess. The wallaby on the right is the macropus greyi – the Toolache wallaby which is now extinct and featured beautiful dark face markings.

For the list of all finalists – click here.

Established in 2001, Adelaide Perry Gallery aims to broaden students' experience and knowledge of art, design and curatorial practice by providing a space where students can engage directly with contemporary professional practitioners. Named in commemoration of Adelaide Elizabeth Perry, a respected Sydney painter and printmaker who taught at the College from 1930 until 1962, the space is an integral and enriching component of Visual Arts and Design & Technology learning at PLC Sydney. Adelaide Perry Gallery is open to the public and welcomes school-group study visits.